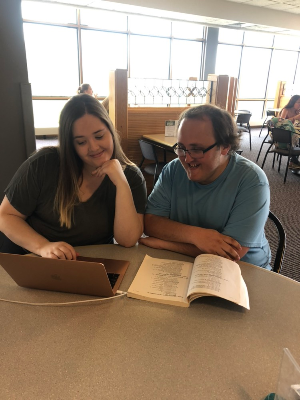 Name: Abbey
Major: Criminal Justice
Minor: Business
Hometown: Portland, OR
Q: How would you summarize the position of a peer mentor?  
A: "Assisting students with their academic, social, and campus life. We are here to help the student however they need. It's really unique to each student and what they believe they need. As every college student is different, so too is every student within inclusive higher education. It's being there to individualize support for each student." 
Q: Tell me about the impact of peer mentors. 
A: "The greatest growth I see in students is their independence. Students come in freshman year, become more comfortable getting to lunch by themselves, knowing how to get to classes, making their own friends, learning to navigate themselves as their own person. They have really found themselves and who they want to be." 
Q: What is unique about peer mentors? 
A: "GOAL staff are on campus from 9-5. Peer mentors get to hang out with students outside of business hours and on weekends, doing a lot of things that involve more socialization. Students are often more comfortable talking to us as a friend when they need. For example, talking about parties or relationships or other things they notice about what other college kids are doing. We're college kids too." 
Q: How has your position as a peer mentor impacted your time as a college student? 
A: "Inclusion is such a not talked about thing that people just don't know about it. People don't know how to interact with people with disabilities. Now it's a part of my life and I'm spreading awareness with my friends." 
Q: What do you plan to do after college? How has being a peer mentor impacted you in that work? 
A: "I'm looking into criminal justice jobs in the area. I wasn't familiar with special education coming in to college. Being involved with GOAL has opened my eyes to inclusion and really educated me on different types of people and how everyone is unique. I think that aspect is helpful in any field anyone goes into that involves working with all types of people. It's something I've taken into my own life and work beyond GOAL."