IN! Recognizes Peer Mentors as a Key Ingredient to Student Success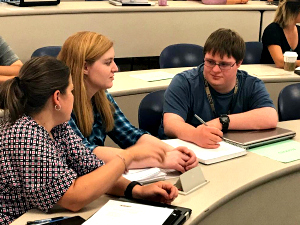 There are many ingredients that go into a successful student recipe on any campus. Some of these are parents, friends, professors and administration, and of course the students themselves. But, the students that attend the Inclusive Higher Education college programs at the University of Northern Colorado, the University of Colorado at Colorado Springs and Arapahoe Community College have an extra element working for them: The Peer Mentor.

Since college can be overwhelming for any student, the role of the Peer Mentor becomes especially important for students with intellectual disabilities. Successful Peer Mentors know how to help students feel comfortable in the college environment, and are willing to be a resource and helping hand. Communication is an essential part of being a Peer Mentor so that students feel comfortable approaching their Peer Mentors with questions about school or student life on campus.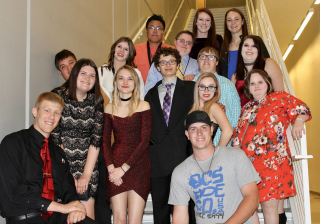 Peer Mentors often see their role as being welcoming and always willing to be there for the students. Peer Mentors help students with intellectual disabilities both academically and socially. The overarching goal is to teach strategies to become a successful college student. The role varies from note-taking in the classroom and conducting homework clubs for students, to helping students learn how to use public transportation to move around the campus and city. Some Peer Mentors have even helped students get ready for homecoming!
Here's what Peer Mentors say about their role:
"Names have been changed to protect the student's privacy" 

Since I've started working with Alice, she has been doing exceptionally well. I've seen great improvements with her time management. She loves her sign language class and signs my name every time I see her. I am so impressed how she can adequately sign and talk at the same time. I'm so lucky to work with her.

I am enjoying serving as a peer. Tony and I have great discussions about class, life, or problems he is having. He is very open with me, and I truly feel I have gained a new friend.

I have enjoyed seeing Brittany become more independent in her classes. She has improved when it comes to working with other students and being independent with her classroom work. Each week she is needing less help from me when it comes to direction and reminders.

Phillip is a hoot and I love working with him. He is always doing something funny to make me laugh, and I thoroughly enjoy my time with him. In the classroom, he feels comfortable answering questions from the teacher and can always get a giggle from the class with his answer. He has become a good friend.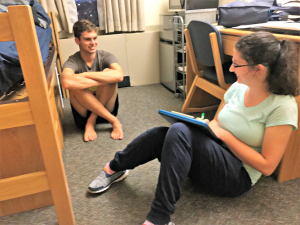 Seeing students with intellectual disabilities succeed and being included on campus is impressive in its own right. But we should recognize that the Peer Mentors make an important difference in our students' lives and their success on and off campus. 
Peer Mentors are doing their part in helping make our students successful.

Would you consider making a donation to do your part?  Make a contribution here.