Meet Colorado's First Graduates of Inclusive Higher Education!
In May of 2020, Colorado celebrated our first five students with intellectual/developmental disabilities to graduate from schools offering inclusive higher education pathways. One more student will follow in December. Mia, Nick, and Ashley were in the first cohort of students receiving supports from the Office of Inclusive Services at University of Colorado Colorado Springs (UCCS), established under Senate Bill 196 in 2016. Kacie, Jazmine, and Vince are the first cohort of students receiving services from Elevate at Arapahoe Community College (ACC) to graduate from ACC.
---
Ashley, studied Advocacy and Human Services at UCCS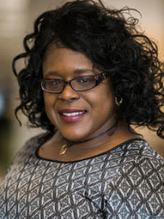 Ashley's commitment to making sure that people with disabilities have a strong voice in their life led her to an internship focused on the work of self advocates at The Arc Pikes Peak Region. At UCCS, Ashley worked to develop her own public speaking skills through many communications classes. While Ashley's career commitment kept her working at The Arc, her outside interests in fashion and the theater gave her a full life with many outside activities throughout college. Having graduated in May, she is currently completing a one year SARTAC fellowship focused on student self-advocacy during IEP meetings.
---
Jazmine, studied Nursing Assistance at ACC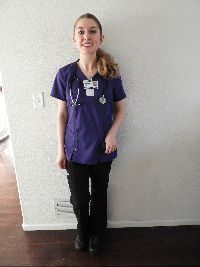 Jazmine graduated from Arapahoe Community College with a Nurse Aide Certificate and Comprehensive Higher Education Certificate. Jazmine's dedication to caring for others fueled her passion for the nursing field. During her time at ACC, Jazmine joined the National Honors Society of Leadership and Success, furthering her leadership abilities. In her free time Jazmine can be found spending time with her family, friends, and boyfriend, going to movies and out to dinner.  She also loves walking and caring for her dog, Sugar. She currently holds a job as a CNA with Rocky Mountain Hospital for Children.
---
Kacie, studied Communication at ACC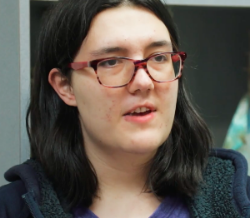 Kacie's love of reading and learning drove her to enroll in college. At ACC, Kacie helped start the Elevate Club, dedicated to raising awareness of what it is like to be a student with a disability in college. She interned with a local coffee shop and worked in the college library. She has a special place in her heart for shelter animals. Kacie transfered to Colorado State University this fall to obtain her Bachelor's degree. Kacie hopes to work as a librarian and inspire children to love learning.
---
Mia, studied American Sign Language and Education at UCCS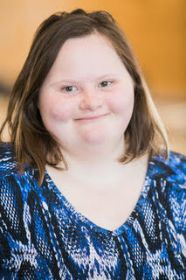 During her time at UCCS, Mia committed to making sure she took full advantage of all the opportunities college has to offer. In addition to mastering all that it took to live on campus, Mia could be found taking Hip Hop classes at the Wellness Center or hanging out with friends and her boyfriend. Mia worked two jobs on campus; one as a barista and another working for the Human Services office. Mia's commitment to a career in sign language and education led her to hold two different internships teaching young children to learn American Sign Language. While the pandemic took her out of the classroom, Mia continued to keep her skills sharp by teaching sign language to her family and friends. She is looking forward to getting back into the classroom when schools fully reopen.
---
Nick, studied Photojournalism at UCCS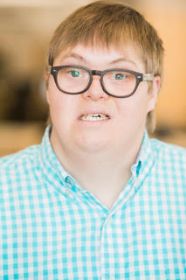 Nick's commitment to inclusion and desire to go to college led him to be among the first students with Down syndrome to attend UCCS. Nick began taking classes at UCCS before inclusive services were established at UCCS. His dynamic personality and commitment to learning allowed Nick to create great relationships with professors and his fellow students, which paved the way for the creation of the Office of Inclusive Services at UCCS. In addition to being a full-time college student, Nick had two jobs. His job at a local car wash allowed him to dive into his love of cars and machines and his work at PEAK Parent Center gave him the opportunity to support those engaged in disability advocacy and inclusion. His future plans include expanding his entrepreneurial endeavors, including selling his photos online and at art shows.
---
Video Featuring Graduates
Click here to check out a CBS4 story about the graduates!
---
Note: IN! does not provide any direct support to students. We are a non-profit that advocates for the establishment of inclusive supports on college campuses. Supports are provided by each university's staff and students graduate from their respective institute of higher education (i.e. Office of Inclusive Services at UCCS, Elevate at ACC, GOAL at UNC).