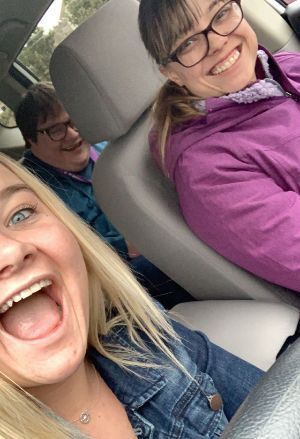 Name: Hannah
Major: Inclusive Elementary Education
Minor: Business
Hometown: Castle Rock, Colorado
Q: How would you summarize the position of a peer mentor? 
A: "Someone who supports the students inside the classroom inside and outside the classroom and pushes them to do on campus activities. We're like a moral support cheering students on." 
Q: What is the greatest growth you have seen in a student you work with? 
A: "One student was really closed off her first semester. This semester she is talking to everyone....She went from not being sure if she wanted to be here, then shifting to wanting to be here every day." 
Q: What is unique about peer mentors? 
A: "Students see teachers as someone they have to listen to, but mentors are someone they can share their life and goals with, but also focus when they have to." 
Q: How has your position as a peer mentor impacted your time as a college student? 
A: "I've grown tremendously. I want to make a huge difference. Now working with individuals with disabilities is one of my passions, not just what I love. I want the upcoming world to look at students with intellectual disabilities and see the difference they can make." 
Q: What have you learned as a peer mentor? 
A: "Whether you are a student with an intellectual disability or not, you are just as bright as anyone else." 
Q: What do you hope to do after college? 
A: "Work in an inclusive elementary classroom, not one where students with intellectual disabilities are outside of the classroom." 
Click here to read more about the importance of peer mentors!