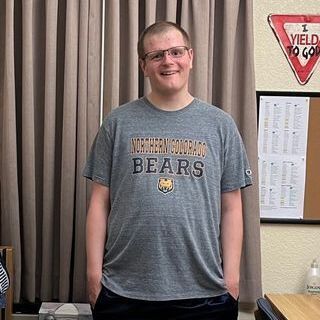 Meet Jason, a senior at UNC getting ready to graduate with his Comprehensive Higher Education Certificate in Sociology! While attending the GOAL program, Jason has grown in his time management skills, his flexibility when "things happen," and his confidence. As he looks ahead to graduation, he is very excited to reach this milestone and begin planning life after college. Jason is still trying to decide what he wants to do after graduation. He knows he wants to move back home to his small town in Eastern Colorado, and he might get a job as a Personal Shopper at Walmart. Jason says he never thought he would be able to live hours away from his hometown, but he feels like he "gets the best of both worlds" by being able to spend time in Greeley and go home periodically. Check out his senior video to find out more about his college experience.
Jason's Experience
School: UNC
Major: Sociology
Favorite Part of College: Meeting people and working at the dining hall.
Plans After Graduation: I don't know at this point! I intend to move back home and live with my family. I'll obtain a job somewhere -- possibly Walmart as a Personal Shopper.
Jason's Words of Wisdom
What has the opportunity to go to college meant for you?: This has been the best thing that's ever happened to me! I'm not the same me when I came in. I'm more confident. I have more experience. I'm learning to navigate my social life more and take the initiative. It's meant the world for me to be here!
What did you learn about yourself during college?: I'm more capable than I think I am and I'm more capable than I give myself credit for!
What advice do you have for incoming freshmen?: There are tons of events! I met one pretty good friend from "speed friending" (which is 'speed dating' for making friends). Make the most of it and be okay with the learning experience. Know that that's why you're there.