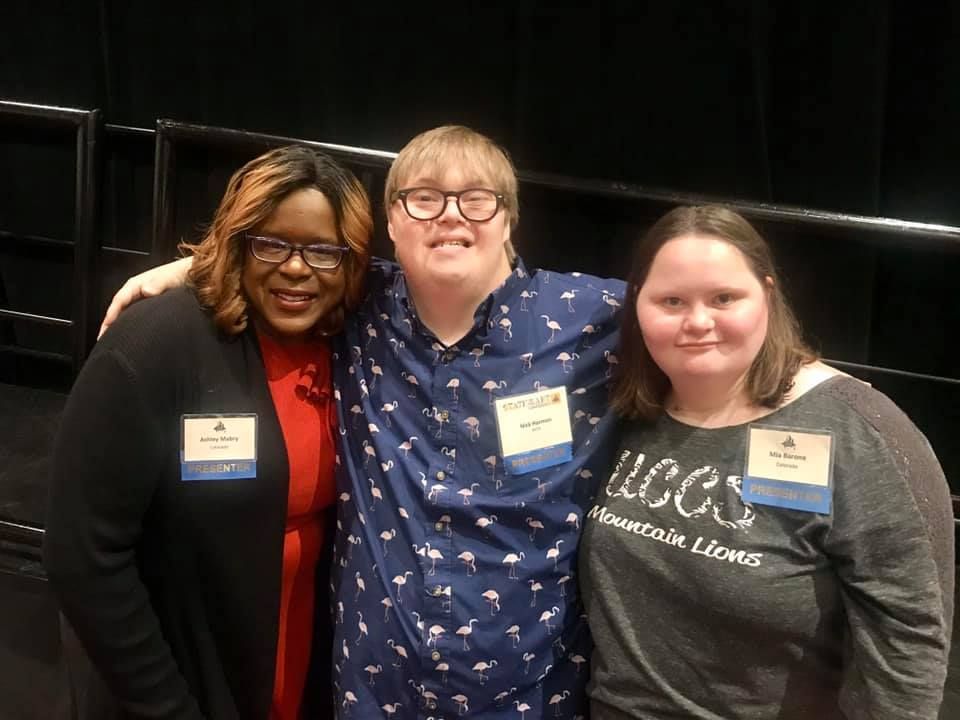 While Mia, Ashley, and Nick prepare to graduate in May 2020, they are continuing to leave their mark on higher education and enhancing pathways for future students with intellectual and developmental disabilities (IDD). This month, the three graduating seniors from the University of Colorado Colorado Springs (UCCS) presented at the 2019 State of the Art Conference on Postsecondary Education and Individuals with Intellectual Disabilities in Reno, Nevada. Their session: Steps for Designing Creative College Modifications. The audience: Higher education professionals.
Traditionally, college students are only able to access accommodations (ex: extended time, quiet testing location, scribe, recording of lecture). Through inclusive higher education pathways, students with IDD are able to access modifications in their college courses (ex: alternate test format, shortened assignments, etc.). During the presentation, each senior spoke about the modifications that have supported them to succeed in their college career.
Nick, who studies photojournalism, provided an example from his Colorado History class. The assignment was to write a paper on the book Halfbreed. As an alternative to writing a paper, Nick submitted PowerPoint slides, with text and photos, that outlined all of the necessary components for the paper. His assignment was graded with the same rubric used for all other students in the course and he received feedback and questions from his professor, prompting further analysis of the book.
Mia studies American Sign Language (ASL) and Education. She presented an example of a modification applied to an ASL assignment that required her to compile a counting lesson for students, with a written reflection. To complete the assignment, Mia utilized an outline of questions that included all the assignment components. In addition, she submitted a video of herself teaching.
Ashley studies Advocacy and Human Services. In her first year at UCCS, Ashley took an Intro to Theater course. As an alternative to writing a reflection paper for the course, she completed a four square graphic organizer. As Ashley has moved through her college career, she has found additional accommodations and modifications to support her in her classes, such as read-write software. This year, in her Disability Studies course, Ashley's final project was to write and speak to student government. Ashley presented to student government, but instead of writing a reflection, she submitted a video in which she verbally responded to all of the assignment questions.
Thanks to Mia, Nick, and Ashley's willingness to share about their college experiences, the audience left the session with new ideas for how to approach modifications at the college level.
To read more about the graduates, click here.