Mia, studies American Sign Language and Education at University of Colorado Colorado Springs (UCCS)
---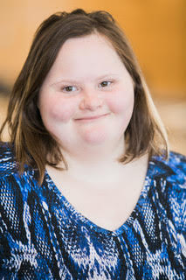 Mia has gone from avid coffee drinker at UCCS to barista! Mia is committed to making sure she takes advantage of all the opportunities college has to offer. Mia works two jobs on campus; one as a barista and another working for the Human Services office. Mia's commitment to a career in sign language and education has led her to hold two different internships teaching young children to learn ASL. Mia has mastered all that it takes to live on campus! You will often find Mia taking Hip Hop classes at the Wellness Center or hanging out with friends and her boyfriend. Mia will graduate from UCCS in May 2020.
Mia's Favorite College Classes
American Sign Language classes
Public Speaking
College and Career
Diversity and Development
Mia's Work/Internship Experiences During College
Teaching mathematics to children at a local elementary school
Teaching ASL to fourth grade students
Field experience with the Family Development Center on the UCCS campus
Student assistant for the Human Resource Department
Coffee barista
Extracurricular Activities Mia Enjoys
American Sign Language Club
Dance Club
Swim Club
Hip hop classes
On campus events: Bingo nights, Karaoke
Going on dates with her boyfriend
Post-graduation Plans
Upon graduating, Mia plans to continue to live independently in an apartment. She hopes to pursue her dream job of teaching sign language to kids.
---
Mia's Advice for Future Students
---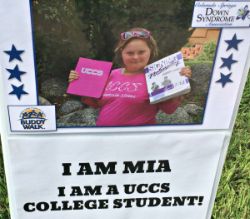 "Be true to yourself. I wasn't, but now I am."
"Do a lot of activities. Go and be involved. That's how I got to know people."
"I advocated with my mom and dad to let me come here in the first place."
---
From Freshman Year to Senior Year
---
"My biggest change is actually me living independently in the apartments. My mom and dad don't boss me around all the time."
"My freshman year I didn't really have confidence. I did have a public speaking class, but I did really bad at it. When I'm a senior this year, I'm doing really great at it. I do a lot more speaking and am more clear."
"I have two jobs. I never had jobs my freshman year."
---
Mia's Family Members Share Their Thoughts
---
---
More About Mia
---
Video of Mia giving a tour of UCCS
Denver Post article from Mia's freshman year of college

---
To return to the list of graduates, click here