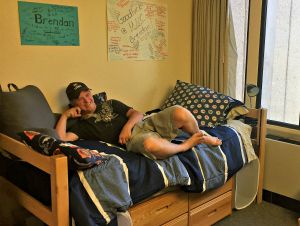 Brendan stepped foot on campus at the University of Northern Colorado in the fall of 2017. He had watched both of his sisters go to college, and as colleges opened their doors to students with intellectual disabilities in Colorado, he finally was able to do the same. In his mid-twenties, this was the first time college had been an option for him in Colorado. Now, in 2021, he will become one of the first students with Down syndrome to graduate from UNC.
Brewing Sciences
Brendan studied Brewing Sciences and took classes like Science of Brewing and Customer Behavior, amongst others. Brendan's dream job is to work at a brewery as a head brewer. In the summer he usually works at a brewery in his hometown. During this school year, he had an internship with a brewery in Greeley.  He's not sure where he will land after graduation, but has thought about moving to Tennessee because he loves their football team.
Preparing to Graduate
After a year of learning to adapt to lots of meetings, Zoom calls, Microsoft Teams, Brendan says, "I'm ready to graduate, but I'll probably miss my friends, like, at college. Kind of hard for it. And, also, it's going too fast, for me and for everybody." When asked about his favorite part of college, Brendan shared, "So, my best part is everything. Because I just like walking the campus. Also, making new friends here at college and I like to see them more." He also noted he was involved with taekwondo and rugby.
Advice for Future Students
When looking at colleges, Brendan knew UNC was his first choice and remembers being "nervous about whether did I make it here. Did I make it at UNC as a bear or did I not make it?" For high school students thinking about college, he says, "I know it's hard, hard moving and missing your family and this way, but I think there's good stuff from college. Like being an adult, I think you've probably got this."