About GOAL at University of Northern Colorado
Click here to visit UNC GOAL's website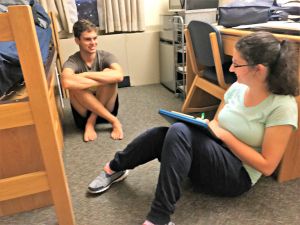 GOAL stands for "Go On And Learn" and is a fully-inclusive, 4 year, certificate program for students with intellectual and/or developmental disabilities to attend courses and live on campus at the University of Northern Colorado. 
Students enrolled in GOAL register for two, inclusive, traditional University of Northern Colorado courses and one, GOAL course each semester.
About GOAL Classes
GOAL courses are differentiated to meet individual needs and are meant to provide specialized instruction, tools, and supports for success at the University of Northern Colorado and post-college life. 
Transition to College Life and Career 
Social Thinking for Community Living and Employment
Literacy for Careers and Community Living
Career Choices and Your Finances
Active Engagement in Your Career and Community
Career Income and Your Financial Future
Workplace Skills, Interactions, and Communication with Co-Workers
Preparing for Your Career and Independent Life after College
Residence Halls
Students live independently with roommates in the residence halls on campus. 
Students are expected to follow all University of Northern Colorado policies and procedures as outlined in the Housing & Residential Education Handbook. 
Please visit the Housing & Residential Education website for more information.
Independent Living
GOAL provides training for elements of independent living on and off campus.
UNC GOAL is a designated Comprehensive Transition Program, which allows students to access federal financial aid.
---
About UNC
Areas of study: Learn more about classes at UNC
Virtual campus tour: Use this online tool to check-out campus.
Housing options: Dorms
Location: Greeley, Colorado
---

For more information, visit their website.
Contact:
Christina Ruffatti | Executive Director | christina.ruffatti@unco.edu | 970.351.4605
Laura Anderson | Academic Coordinator | laura.anderson@unco.edu | 970.351.2693
James Slaughter | Campus Life Coordinator | james.slaughter@unco.edu | 970.351.1541