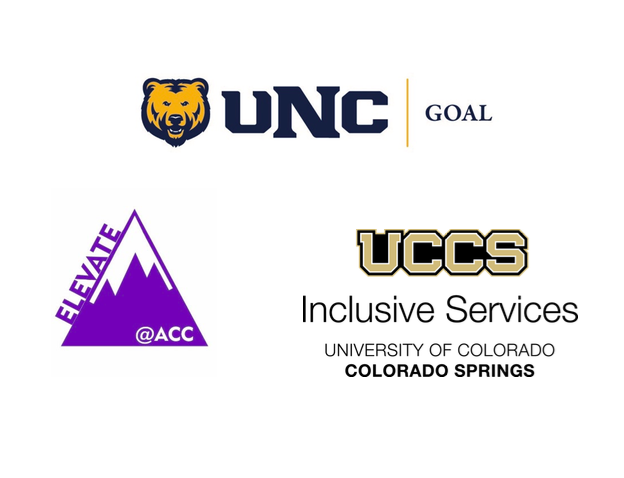 Are you a student with an intellectual disability thinking about college this fall? Students with intellectual disabilities wishing to access inclusive services in college apply directly to the school of interest to them. ACC, UNC, and UCCS are currently accepting applicants for the 2021/22 schoolyear.
---
GOAL
University of Northern Colorado
All application materials must be received by March 1, 2021. 
Application Checklist
Student Application
Parent Application
Student Living Questionnaire
Three Professional and/or Personal References
Teacher Recommendation Letter
Transcripts - Unofficial or Official Transcripts are acceptable
Psychoeducational Evaluation and/or Plan
For more information and to download application materials, visit GOAL's website
Click to watch a recorded open house presentation
---
Elevate at
Arapahoe Community College
Applications are due February 15th.
Application Checklist
Elevate Application
Documentation of an intellectual or developmental disability
Two letters of recommendation
Elevate Supplemental Information
After submission of an application, next steps include: Student admission interview, parent interview, and a virtual campus experience day on Thursday, March 4th
To receive an application packet or request a recording of Elevate's virtual open house, contact Elevate Director, Jennifer Woegens. Phone: 303.797.5806  Email: jennifer.woegens@arapahoe.edu
---
Office of Inclusive Services at
University of Colorado Colorado Springs
Please email Inclusion Coordinator, Julie Harmon, at jharmon@uccs.edu to receive an application.
Application deadline has been extended through the end of February.
The following documentation must be included along with the application:
Most recent Individualized Education Plan (IEP)
Junior year IEP
High School transcript
Teacher letter of recommendation
Community member letter of recommendation
Once your complete application has been received, you will be contacted to set up a mandatory student interview. Admission decisions regarding the 2021-2022 academic year will be made no later than April 1, 2021. 
Visit the Office of Inclusive Services website
---
For a general overview of inclusive higher education, visit this page or connect directly with IN!'s Outreach Coordinator, Shelby Bates, at shelbyb@inclusivehighered.org.