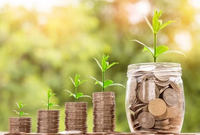 Click to download a benefits counseling guide from APSE
Students holding paid work experiences is a key component of inclusive higher education. Internships, on-campus employment, and off-campus employment opportunities allow students to develop their job skills and to apply what they are learning in their college courses within the real-world setting.
We know there is a lot of fear when it comes to students with intellectual disabilities going to college and beginning to work. Have you ever wondered about the following? 
How going to college may impact your Social Security income? 
How working impacts Social Security benefits (SSI/SSDI)?
What happens to your Medicaid coverage when you start to work?
How ABLE accounts interact with benefits? 
How any other life decision will impact your benefits? 
Benefits counselors can help answer these questions and create a personalized plan for you and your family!
This month IN! hosted Melanie Honsbruch from the Colorado Office of Employment First for a webinar all about benefits counseling. To watch the webinar recording, click here.
Here are key takeaways from the webinar:
What is benefits counseling? Benefits counseling is a service that helps individuals with their disabilities and their families understand how life choices (employment, college, marriage, etc.)  will impact their benefits (SSI, SSDI, Medicaid, food/housing assistance). Benefits counselors work with individuals to verify their benefits and help them understand different benefit scenarios.
Why should I use benefits counseling? Benefits counseling can help debunk myths that may exist around how work will impact benefits. Counselors can help individuals make plans that will promote their economic, mental, and physical well-being.
When should I use benefits counseling? You can pursue benefits counseling at anytime. It is especially recommended when you are considering employment and education.
How can I access benefits counseling? Colorado APSE hosts a Benefits Counseling Guide that explains the various ways to access benefits counseling, many of which have no cost associated with them.
What other resources are relevant to know about? Colorado ABLE accounts provide an option for individuals with disabilities to save, while maintaining their SSI and Medicaid.