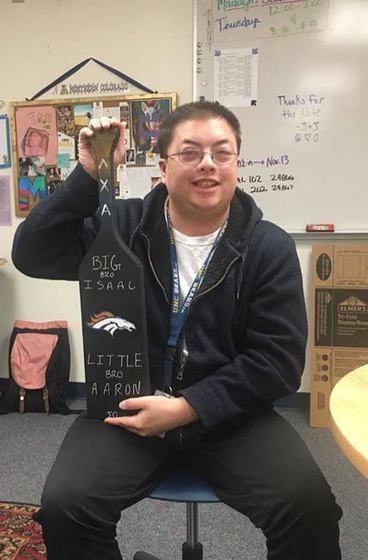 The University Campus: Fraternity Life & More! 
Success comes in many shapes and sizes. For Aaron (photo) there have been many great successes over the past year.  
From community college to university 
This time last year, Aaron was enrolled at Arapahoe Community College, getting used to life as a college student. He decided it was time to make the leap to the university setting, where he could pursue his true passion for physical education and coaching. Last fall, he enrolled at the University of Northern Colorado, leaving the Denver region to move to Greeley and live in the dorms.  

Becoming the 1st fraternity brother with an intellectual disability! 
At UNC, Aaron joined Lambda Chi Alpha (ΛΧΑ), a fraternity on campus. This is a huge step in furthering inclusion in higher education. Greek life offers many channels for social engagement. Aaron explains, "You do Greek life stuff with them, go to parties with them if you want, meetings, play sports with them, if you want to invite them to dinner you can." 
Building self awareness and independence
In making the decision to transfer to UNC, Aaron increased his self awareness of the supports he needed. UNC GOAL and Easterseals Colorado are two of the supports he chooses to access. Easterseals Colorado provides a wide array of services to adults with disabilities, including mentorship, job searching, job placement, job coaching, and other long term employment services. Mentorship is based on the client wants and needs, revolves around meeting the client where they are at, and focuses on building independence and self-advoacy. To make the most of mentorship support, Aaron says it is important to be "honest and truthful" with his mentor about his needs.  

Greatest accomplishment? 
When asked about his greatest accomplishments since transferring to UNC, Aaron replied, "Being independent, living on my own, being on campus, and just making new friends, and joining a fraternity."