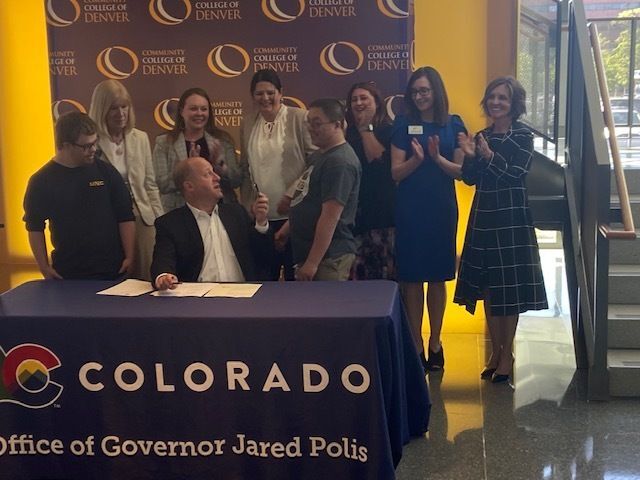 Legislation to expand inclusive higher education in Colorado has PASSED! 
For the past year we've advocated for House Bill 22-1107: Inclusive Higher Education Opportunities. This bill creates the opportunity to expand pathways to higher education for students with intellectual and developmental disabilities (IDD) in Colorado.
All of the hard work has paid off - the bill passed and was signed by Colorado Governor Jared Polis!  
About the bill:  With the success of the first three colleges offering inclusive higher education paths in Colorado, the demand for more opportunities has proven to be great. HB22-1107 supports universities and colleges to meet that demand by establishing new or expanding existing college pathways for students with IDD.
The bill gives funding to create a 5 year Inclusive Higher Education Grant Program. These grants will allow colleges across the state to apply for needed funding to develop, expand and solidify inclusive higher education pathways!   
We are so thrilled! This is a HUGE step forward for so many students with a college dream, for families wanting opportunities for their child, and for colleges who wish to create inclusive pathways on their campuses! 
For us at IN!, we are so inspired and grateful. The passage of this bill supports our continued commitment to ensure students with IDD are welcomed on college campuses as inclusive pathways become a part of the fabric of all college and universities throughout Colorado.