Inspiring Futures College Mentorship Program
Fall 2023 Applications are Closed - Stay Tuned for Spring 2024 Details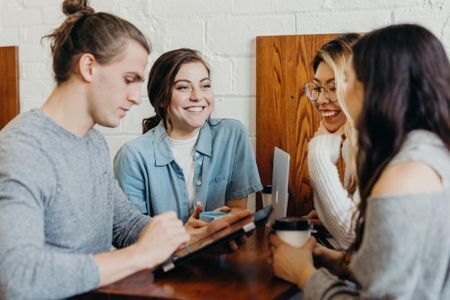 OVERVIEW
Students with intellectual disabilities (ID) are going to college in Colorado thanks to the Inclusive Higher Education programs across our state. If you are a student with ID, you can go to college too! By participating in our college mentorship program, you can learn about these college options directly from college students with ID and see if it's a good fit for you. 
In this program, students will participate in 6 virtual mentorship sessions facilitated by IN! staff and led by college mentors. College mentors will be from current inclusive programs at the University of Colorado Colorado Springs, University of Northern Colorado,  Arapahoe Community College, and Regis University. Each week we will talk about a college topic in large and small groups. You will learn about what life is like in college and discuss what you want to do after high school. You will also get to interact with other high school and transition students that are interested in college.
Download the Inspiring Futures College Mentorship Flyer in English or Spanish!
---
DETAILS 
The Inspiring Futures College Mentorship Program is Intended For:
Students with intellectual disabilities (ID) that are interested in exploring college as an option after high school. 
Juniors and seniors in high school or students in a transition (18-21) program.  
Note: Students do not need to be set on going to college in order to participate, they simply need to have an interest to learn more about it. 
Key Dates
Sept 15        Applications Due
Sept 18-22   Student Interviews 
Sept 27         Weekly Mentorship Sessions Begin 
Mentorship Session Schedule: Held virtually via Zoom on Wednesdays from 4:30-5:30pm. 
Sept 27  Week 1: Get to know you & general mentor/mentee connection
Oct 4      Week 2: Campus & social life in college  
Oct 11     Week 3: Academics in college 
Oct 18     Week 4: Career exploration 
Nov 1      Week 5: Independence & self-determination
Nov 8      Week 6: Celebration & Concluding Q&A (parents welcome)  
*college campus visit date and details to be determined 
Questions? Reach out to Shayna Laing, IN!'s Community Engagement Manager: shayna@inclusivehighered.org
---