Kacie, studied Communication at Arapahoe Community College (ACC)
---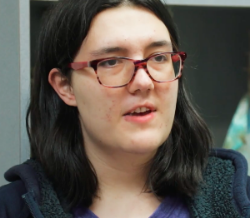 Kacie's love of reading and learning drove her to enroll in college. At ACC, Kacie helped start the Elevate Club, dedicated to raising awareness of what it is like to be a student with a disability in college. She interned with a local coffee shop and now works in the college library. She has a special place in her heart for shelter animals. In May 2020, Kacie graduated with her Associate's Degree in Communications. She plans to transfer to Colorado State University to obtain her Bachelor's degree. Kacie looks forward to living independently, continuing to learn new things, and make new friends. Kacie's dream job is to work as a librarian and inspire children to love learning.
Kacie's Favorite College Classes
Communication classes
English classes
Art history class
Kacie's Work/Internship Experiences During College
Student work experience at the ACC library
Internship with Dirt Coffee Bar
Extracurricular Activities Kacie Enjoyed in College
Elevate Club that informs campus members about what it's like to be a student with a disability

Activities included: Special screening of Big Hero 6, Coffee with Cops, Bingo
---
Kacie's Advice for Future Students
---
"Work hard. Be willing to ask for accommodations if you need them."
"Remember your end goal. Remember what you're working towards...just keep that goal in mind...for when it feels like things are going hard."
---
From Freshman Year to Senior Year
---
"Throughout middle school and high school, I had the support of my teachers and a group of friends who had disabilities like me. But when I started college at Arapahoe Community College, everything changed. I no longer had an IEP to ensure that I got accommodations. Instead, I had to make my own requests for accommodations. And the accommodations were limited. It was in the fall of 2016 that I became part of the first Elevate group. I welcomed the opportunity, mainly because I now felt that I wasn't alone at ACC. I quickly became good friends with the other group members. And since then, I've remained good friends with many of them; while also making new friends."
"Elevate has taught me all sorts of skills, from study skills to life skills to job skills. When I was in my freshman year of college, I used to highlight all the text in my textbooks. Now, I only highlight the important content. I used to never take notes in my classes. Now, I write down notes as I need them; whether it's the key parts of a concept in biology, the main points of a philosophy reading, or vocabulary terms that the teacher uses during an art history lecture. I used to just sit in class and not pay too much attention to the lectures. Now, I pay attention in class and actively listen to the lectures. I used to not pay much attention to deadlines for assignments. Now, I write down assignment deadlines in my planner and break big projects into smaller parts. I used to frequently leave the classroom during class for long periods. Now, I limit my breaks and avoid leaving the classroom during class. I used to sleep through my alarm and rely on my mom knocking on my door to wake me up. Now, I get out of bed as soon as the alarm on my phone goes off. I used to waste my money on food from the café. Now, I bring my own food. I used to avoid checking my email for weeks. Now, I check it every day. I used to not know how to write a resume or cover letter. Now, I know how to write them."
To read the full article by Kacie on how she has grown from freshman to senior year, click here.
---
Kacie's Mom Shares Her Pespective
---
---
More About Kacie
---
Like many college students, Kacie changed her course during college. Originally, Kacie was interested in teaching children, but through volunteer experiences, she realized it was not her true passion. She hopes a library position will enable her to inspire children to share her love of reading.
Kacie was accepted to CSU!
---
To return to the list of graduates,

click here