Jazmine, studies Nursing Assistance at Arapahoe Community College (ACC)
---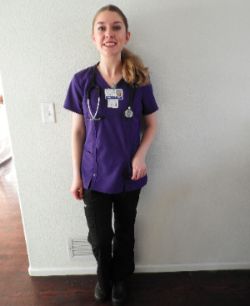 Jazmine's dedication to caring for others has fueled her passion for the nursing field. During her time at ACC, Jazmine joined the National Honors Society of Leadership and Success, furthering her leadership abilities. In her free time Jazmine can be found spending time with her family, friends, and boyfriend, going to movies and out to dinner.  She also loves walking and caring for her dog, Sugar. Jazmine will graduate from Arapahoe Community College in May 2020 with a Nurse Aide Certificate and Comprehensive Higher Education Certificate.
Jazmine's Most Impactful College Classes
Certified Nurse Aide classes
Psychology
Nutrition Class
Computer Information Systems
Jazmine's Work
Jazmine is currently interviewing for a job with Rocky Mountain Hospital for Children.
Activities Jazmine Enjoys
Member of National Society of Leadership and Success
Chatting with friends on campus
Going on dates with her boyfriend
Any on campus activities that include free food
Post-graduation Plans
When asked about her post-graduation plans, Jazmine replied, "I hope to get a job at Rocky Mountain Children's Hospital for Children, and I want to move out of the house, and then I want to get a car." Jazmine loves taking care of children and seeing people recover brings her joy.
---
Jazmine's Advice for Future Students
---
"My advice for high school students is to pursue their dreams and know that they can accomplish anything that they want to."

"You can conquer your goals if you try very hard and learn from your mistakes."
---
Jazmine, her Mom, and a Professor Share Their Thoughts
---
---
More About Jazmine
---
Jazmine uses public transit to get to and from ACC.
Receiving IN!spirational Person of the Year award

Multiple Intelligences Inventory
---
To return to the list of graduates, click here