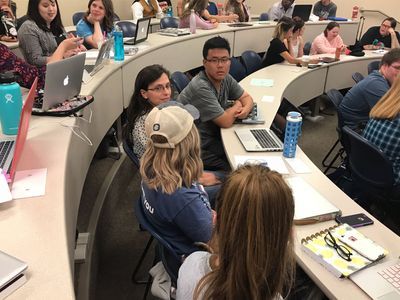 Become an INclusivist - join IN!'s monthly giving club!
INclusivists support the belief that people with intellectual disabilities should have the opportunity to go to college!
By becoming an INclusivist, YOU are making the future of our state brighter! Collectively, INclusivists make sure students with intellectual disabilities (IDD) can go to college in our state. Four years ago, college was not an option for students with IDD in Colorado. Today 72 students are enrolled at Arapahoe Community College, University of Northern Colorado, and University of Colorado Colorado Springs. Your investment will ensure this number continues to grow for the next decades to come.  
---
| Level | Monthly Amount | Your Investment Supports | Membership Perks* | Impact |
| --- | --- | --- | --- | --- |
| Freshman | $5 | Each month your $5 helps raise awareness of college options for students with intellectual disabilities | Annual Q&A with college students; Name listed on monthly donor webpage; INclusivist sticker | "My dream job is to work at Google." ~Student |
| Sophomore | $15 | Each month your $15 funds a one-on-one conversation with a parent, teacher, or student to answer specific questions they have about college | All the above perks, plus: Exclusive quarterly updates | "It's an inspiration to us and our 12 year old daughter. This looks very promising as a possibility for her. It is so encouraging." ~Parent |
| Junior | $25 | Each month your $25 supports IN!'s technology needs, allowing us to reach individuals across the state | All the above perks, plus: Invitation to giving club appreciation event | "A lot of high school teachers tell a lot of students with disabilities they can't go to college. I think it's not fair, because we're people too." ~Student |
| Senior | $50 | Each month your $50 supports a teacher or parent training event, providing the tools to best prepare students with IDD for college and ensuring more and more students with IDD are on a college-bound track | All the above perks, plus: INclusivist t-shirt | "I got goose bumps at the enthusiasm for college that the students had. This experience is a must in the future for all of our students!" ~Teacher |
| Graduate | $100 | Over the course of a year, your $100/month allows a college to provide supports to one student with IDD, allowing them to reach their dreams | All the above perks, plus: Discounted event tickets and free drink or food item at Young Professional brewery nights | "Because of IN!, our school has become a truly inclusive campus." ~Staff |
| Doctorate | $150 | Your $150/month contributes towards IN!'s goal to provide start-up funding to another college wanting to open their doors to students with IDD | All the above perks, plus: Annual one-on-one meeting with IN!'s Executive Director or board member; special recognition when a new school opens their doors to students with IDD | "I defy expectations. I have overcome many challenges. I am going to college!" ~Student |
Don't see a level that fits you? You can customize your monthly giving amount below.
*Membership perks can be adjusted based on your preference
---
Frequently Asked Questions
Q: What day of the month will my donation come out of my account? Can I change the day my donation comes out of my account?
A: Donations will be processed monthly on the date you signed up. If you'd like to change the date, we can do that for you. Please send an email to Tracy@inclusivehighered.org.

Q: Can I cancel my monthly donations?
A: Yes. You can cancel your donation at any time by emailing Tracy@inclusivehighered.org

Q: What if I need to change my credit card information or giving amount?
A: No problem. Please reach out to Tracy@inclusivehighered.org and we will make sure you're all set.

Q: Will I still receive a tax receipt?
A: Yes. At the end of the year, you will receive a tax receipt for the total of all monthly donations.
---
A big thank you to our newest INclusivists!
Anne M, in honor of Ashley, UCCS graduate
Ben S in honor of Jack, student at UNC
Heidi A in honor of son Calvert
Josh S
Luke W
Meagan T, In memory of Shanna F and in honor of Matthew B
Sara P in honor of Brendan, student at UNC
Steve P
---
Prefer to make a one-time donation?

Click here
.