IN!'s Mission
To create inclusive college opportunities in Colorado for students with intellectual disabilities to foster academic growth, social development, and career advancement.
The Colorado Initiative for Inclusive Higher Education (IN!) is a non-profit founded in 2014 by educators, disability leaders, students and families who have a vision for better and more fulfilling career opportunities for people with intellectual and developmental disabilities (IDD).
Until recently, society's low expectations coupled with limited opportunities have prevented people with IDD from the benefits associated with a higher education. While peers move to the next phase of their lives, students with IDD sit on the sidelines. Consequently, they transition from high school to adult day programs, very low paying jobs, or, in too many cases, simply end up sitting idly at home with limited social outlets. Many individuals live hopelessly below the poverty line, and have little prospect of rising above it.
Our vision: Students with intellectual disabilities will be welcomed on college campuses and allowed to continue their education and preparation for life, as inclusive pathways become part of the fabric of all colleges and universities throughout Colorado.
History was made in 2016!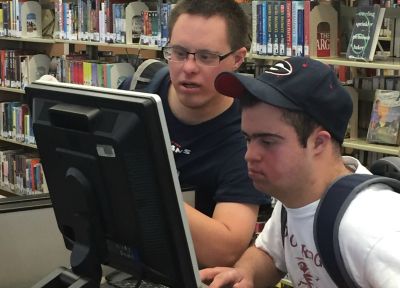 Being one of the last states to offer inclusive higher education options, Colorado was once desperately behind, but now has more options for students with IDD than many other states. Due to the work of IN!, we made history in the fall of 2016 when the first three Colorado colleges opened their doors to students with IDD:

University of Northern Colorado

University of Colorado at Colorado Springs

Arapahoe Community College
In 2019, UNC and ACC received Comprehensive Transition Program (CTP) status, a federal designation which allows students with IDD receiving inclusive services to access financial aid. This places the schools amongst only 100 other schools in the nation to achieve CTP status.
Students Served
As of the 2019-20 school year, 73 students with IDD are enrolled and receiving inclusive services at ACC, UNC, and UCCS.
The following map depicts where in Colorado students are from. Each blue star represents a school offering inclusive services; each red dot represents a student county.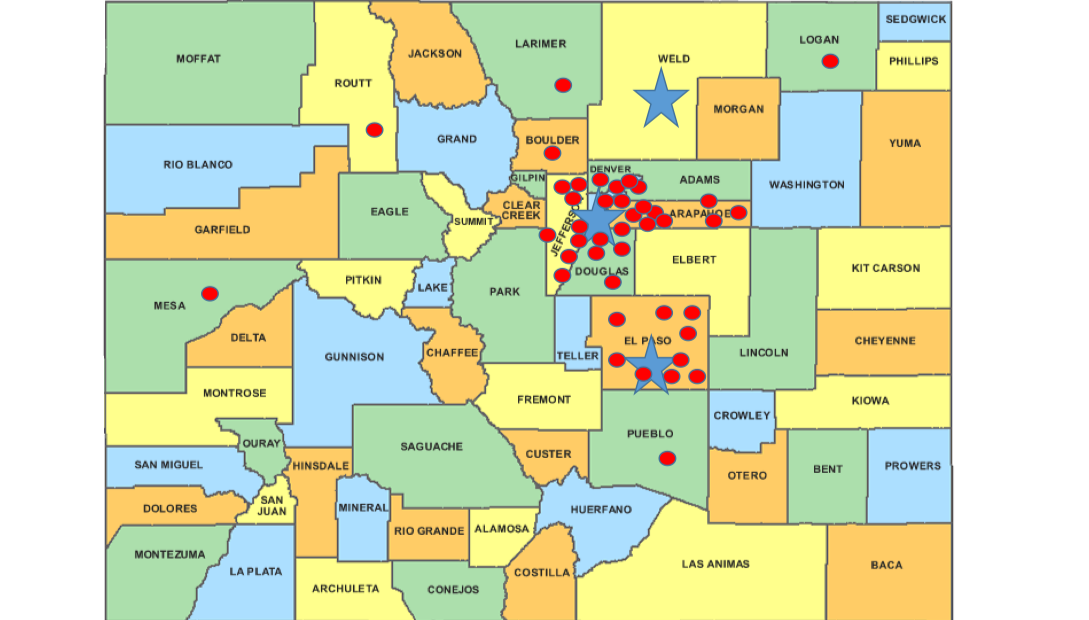 Student interests range far and wide. 
Areas of study: Art design, American Sign Language, Brewing Studies, Communications, Criminal Justice, Early Childhood Education, Elementary Education, Dance, Government, Healthcare, Human Services, Leadership, Library Sciences, Photography, Photojournalism, Physical Education, Public Speaking/Advocacy, and more! 
Clubs/activities: Student government, fraternity life, knitting club, rugby team, residential life, swim team, attending sporting events, and more! 
IN!'s Current Work
The primary initiatives of IN! are outlined below. 
1. K-12 outreach efforts:  The idea of students with IDD participating in college and career is still very new. IN!'s Education and Outreach Program provides information on college options available in Colorado as well as information on preparing students with IDD for higher education. Through this program, IN! works with families, educators, and community based professionals to lay the groundwork for successful college and career outcomes. 
2. Expansion efforts: With the rising demand for inclusive higher education, IN! is actively working to have inclusive college opportunities for individuals with IDD available statewide and woven into the natural fabric of all higher education. From our initial years, we are armed with a sustainable model and proven successful student outcomes. 
3. Creation of post-secondary employment career paths: IN!, looks to ensure graduating young adults with IDD have the opportunity to successfully enter the workforce. This requires efforts to focus on identifying employers and workforce needs, ensuring that students enter the workforce with in-demand, relevant skills that position them for success, as well as providing support/guidance to work with employers to assimilate individuals with IDD into the workforce.
Relevant Resources - Click a Topic Below to Learn More
Impact of Inclusive Higher Education
Preparing students with disabilities for higher education 
Latest news about inclusive higher education and students in Colorado
Questions? Contact us.
Email: info@inclusivehighered.org
Phone: (720) 629-0196