Hey, future college student! We are glad you are here. Best of luck in your college search :)
---
Preparing for College
In this section, you will find tips for preparing for college. 
Step 1. Learn the difference between high school and college 
Things that are unique to high school:
Parents and teachers are in charge of most things
Adults often talk about your needs for you
Most activities are in one place
Things that are different in college:
You are in charge of what you want to do
When you need help, you have to talk about your own needs
Activities are in many places; you create your own schedule
Step 2. Know the steps to prepare for college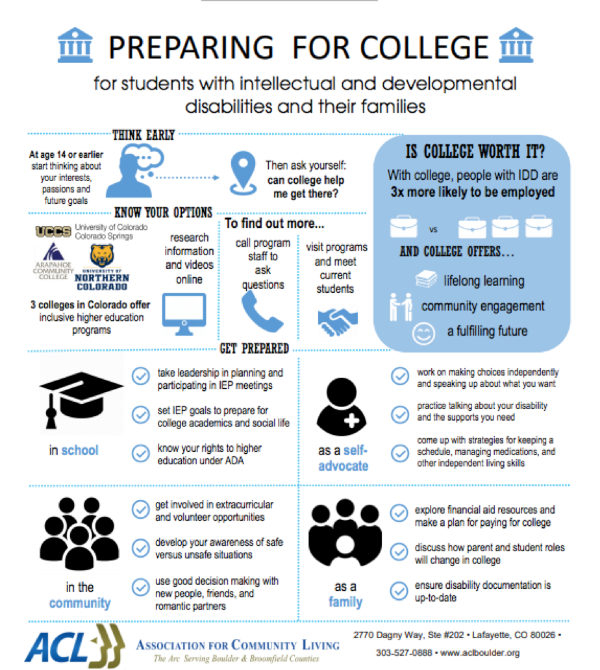 Step 3. Lead your own IEP meeting. Assess your readiness for college and identify items to work on. 
In college, you are in charge of the supports you need. Leading your own IEP meeting is one way to start practicing for this. Click these links for some guides for leading an IEP meeting:
Ten Step Guide This guide includes ten steps to lead your IEP. (This resource came from https://douglasesd.k12.or.us/)
Navigating Your IEP This document is a longer guide that explains the IEP process. (This resource came from the Florida Youth Council) 
Step 4. Check out the school options! 
Scroll down to learn about colleges in Colorado and nationwide. 
---
College Options
In this section, you will learn about different colleges in Colorado.
This list can help you decide which school is right for you:
What do you want to study?
Where do you want to live? 
How far from home do you want to go?
Steps to help decide which college is a good fit:
Tour each school 
Ask to talk to a current student
Set up a meeting or attend an open house to get to know the inclusive office staff at each school
Think College, a national organization, developed a guide to assist in conducting a college search. Download it here.
---
---
Learn about College
In this section, you will learn what a day in the life of a college student is like. 
A day on campus differs by school. When living on campus, a student day might look like: 
Get breakfast at cafeteria
Morning class
Go to work/internship shift
Lunch at cafeteria 
Work out at gym 
Afternoon class 
Study
Dinner
Attend sports practice, club, or social event 
Time with friends
For students that commute to school, an average week might look like: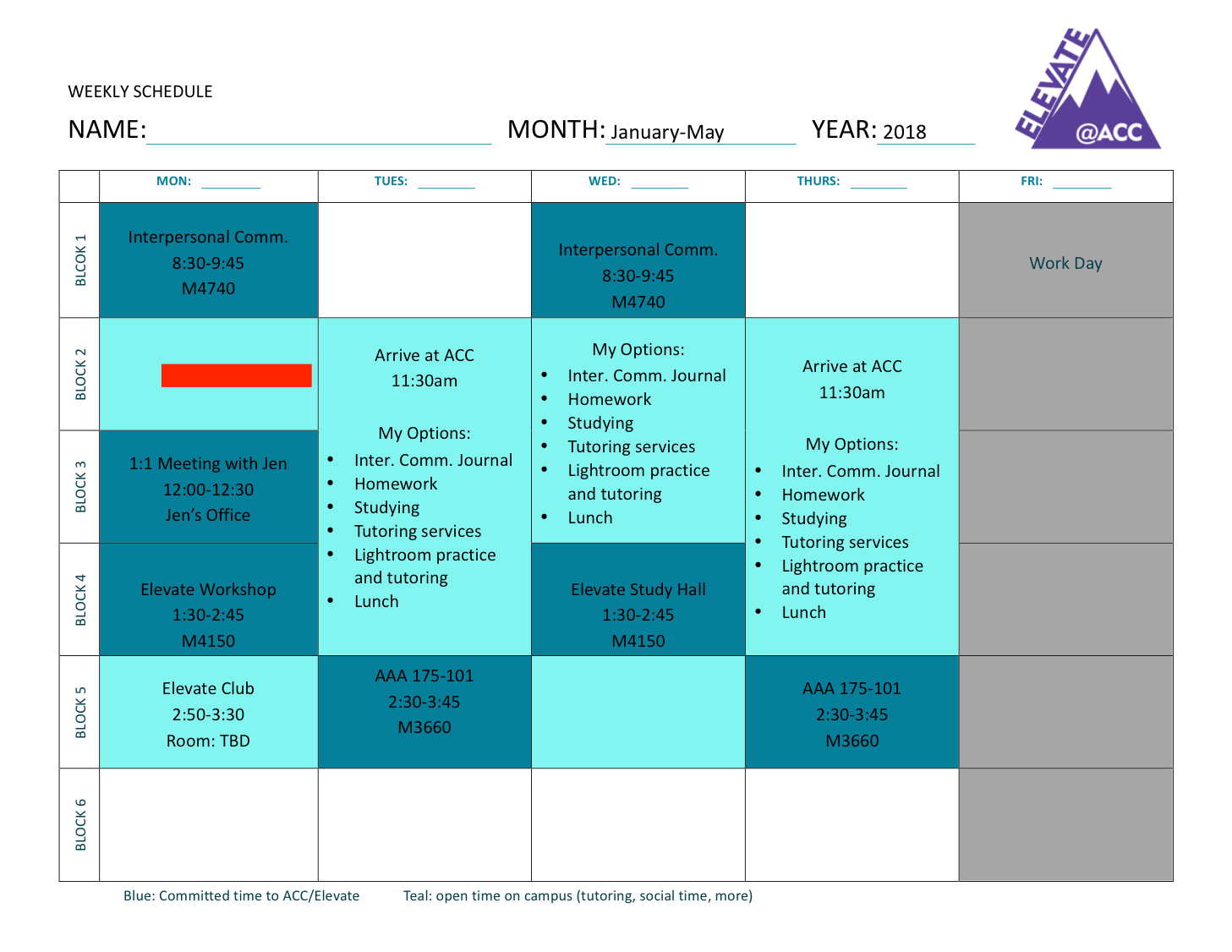 ---
Check out what current students are doing!
---
Questions? Contact us!
Email: info@inclusivehighered.org
Phone: (720) 629-0196