On this page, you will find tips for preparing for college.
---
1. Learn the difference between high school and college
Things that are unique to high school: 
Parents and teachers are in charge

Adults often talk about your needs for you

Most activities are in one place
Things that are different in college
You are in charge of what you want to do

You often talk about your own needs

Activities are in many places; you create your own schedule
What's college like? Click here to learn more. 
---
2. Know the steps to prepare for college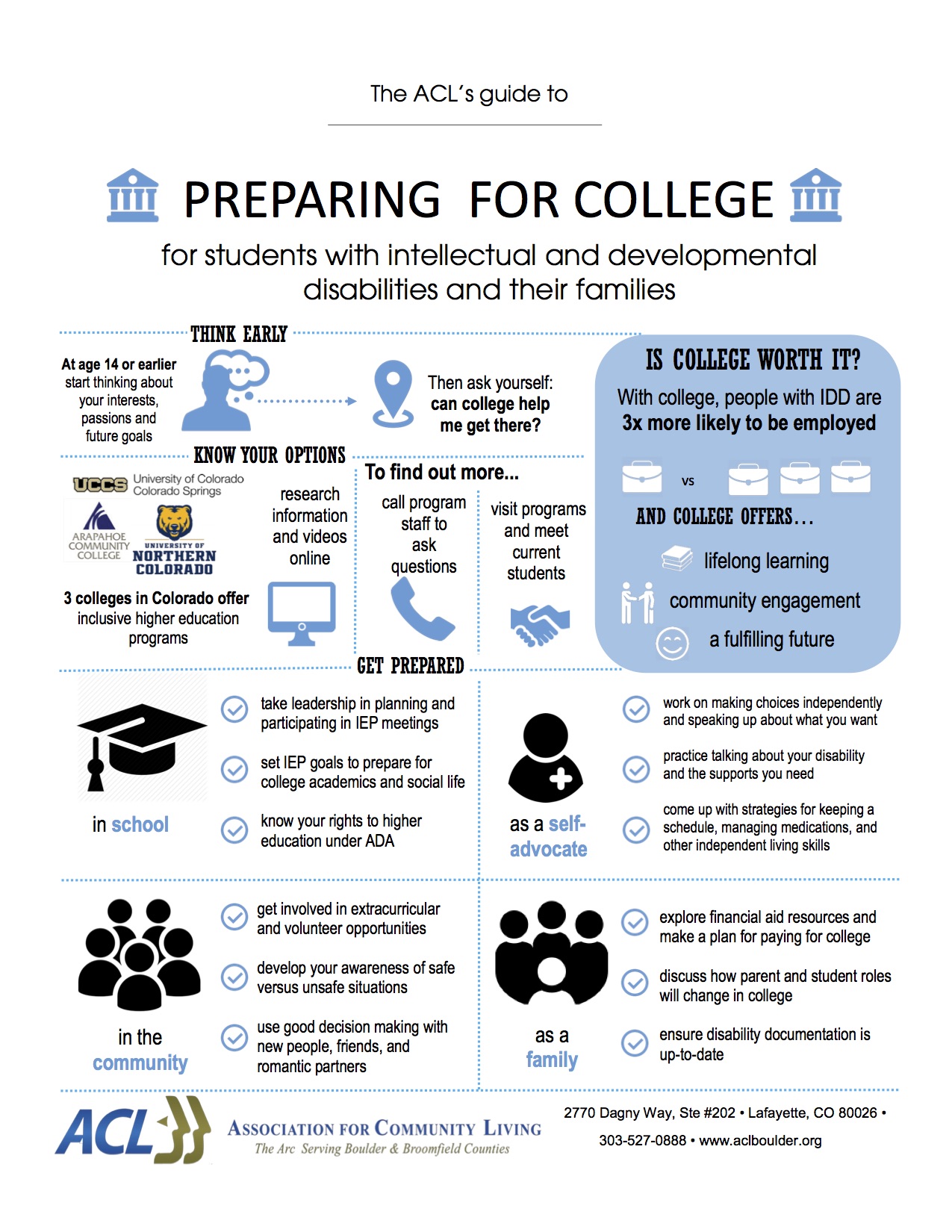 ---
3. Lead your own IEP meeting. Assess your readiness for college and identify items to work on.
In college, you are in charge of the supports you need. Leading your own Individualized Education Plan (IEP) meeting is one way to start practicing for this. Here are some tips: 
Talk to your case manager about leading your next IEP meeting. 
In your IEP meeting, speak clearly about your desire to go to college.

If possible, name specific programs and schools 

During the meeting, ask your team how they can help you prepare for college 

Talk about ways to get involved socially
Talk about what classes you can take, especially related to reading and writing
Click these links for some guides for leading an IEP meeting:
Ten Step Guide : This guide includes ten steps to lead your IEP. (This resource came from https://douglasesd.k12.or.us/)
Navigating Your IEP : This document is a longer guide that explains the IEP process. (This resource came from the Florida Youth Council) 
---
4. Check out the school options
When it comes to college, you have a voice in where you want to go! 
Click here to go to our college options page. 
---
Other Resources
Think College wrote a student resource guide that provides advice from college students. Download it here.