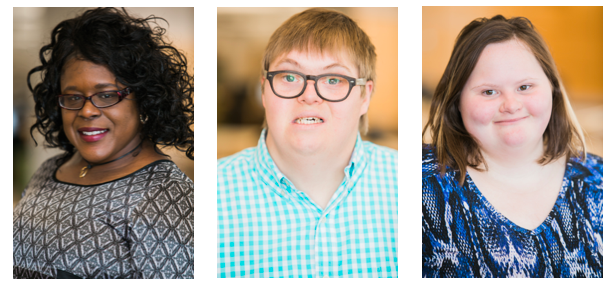 In May 2020, four students will become the first students with intellectual/developmental disabilities in Colorado to graduate from schools offering inclusive higher education pathways. Three students will graduate from University of Colorado Colorado Springs (UCCS) and one will graduate from Arapahoe Community College (ACC).
Ashley (photo left)
Studies Advocacy and Human Services at UCCS
Born in Texas, but lives in Colorado Springs
Ashley's commitment to making sure that people with disabilities have a strong voice in their life has led her to working an internship focused on the work of self advocates at The Arc in Colorado Springs. Ashley has worked to develop her own public speaking skills through many communications classes at UCCS. While Ashley's career commitment will keep her working at The Arc, her outside interests in fashion and the theater give her a full life with many outside activities.  
Nick (photo center)
Studies Photojournalism at UCCS
From Colorado Springs
Nick's commitment to inclusion and desire to go to college led him to be among the first students with Down syndrome to attend UCCS. Nick began taking classes at UCCS before inclusive services were established at UCCS. His dynamic personality and commitment to learning allowed Nick to create great relationships with professors and his fellow students, which paved the way for the creation of the Office of Inclusive Services at UCCS. In addition to being a full-time college student, Nick has two jobs. His job at a local car wash allows him to dive into his love of cars and machines and his work at PEAK Parent Center gives him the opportunity to support those engaged in disability advocacy and inclusion.
Mia (photo right)
Studies American Sign Language (ASL) and Education
Born in California, lives in Colorado Springs
Mia has gone from avid coffee drinker at UCCS to barista! Mia is committed to making sure she takes advantage of all the opportunities college has to offer. Mia works two jobs on campus; one as a barista and another working for the Human Services office. Mia's commitment to a career in sign language and education has led her to hold two different internships teaching young children to learn ASL. Mia has mastered all that it takes to live on campus! You will often find Mia taking Hip Hop classes at the Wellness Center or hanging out with friends and her boyfriend.