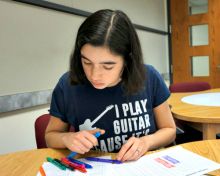 What is Inclusive Higher Education? It is opening the doors to college for students with intellectual disabilities (IDD) to create a better path towards a career and independence. 
When you give to IN! - Colorado Initiative for Inclusive Higher Education, what are you supporting? 
1. Ensuring Quality Programs: IN! provides funding each year to our school partners to ensure they have the funds needed to develop and sustain quality inclusive higher education programs focused on academics, social engagement, and career supports. 
Your impact? Since 2016, enrollment across the three schools has grown from 11 students to 72 students with the first 5 graduates in May of 2020.
"I've always wanted to go to school and when I got the acceptance letter my whole life changed forever."  –Student
2. Expansion of Inclusive Higher Education: IN! works to provide start-up funding to colleges in Colorado hoping to start inclusive higher education programs. We envision a Colorado where inclusive higher education is offered at all 132 colleges, community colleges and trade schools in our state. 
Your impact? IN! has a goal to see 3 more colleges open their doors in the next years.  
"I defy expectations, I have overcome challenges, I am going to college!"  -Student
3. Student and Family Education: IN! informs families of the college possibilities for students with intellectual disabilities in our state via presentations, resource fairs, webinars, phone call consultations. Students and families have hope for what their futures hold.
Your impact? During the 2019-20 school year, IN! reached 545 families in 19 school districts across 14 counties located in 6 different geographic areas. 
"It's an inspiration to us and our 12 year old daughter.  This looks very promising as a possibility to her, it is so encouraging." –Parent
4. School and Community Trainings: IN! provides statewide trainings to teachers, counselors, and disability professionals on how to prepare students with intellectual disabilities for college and career while advocating for increased inclusion of individuals with disabilities in our communities. 
Your impact? During the 2019-20 school year, IN! provided 28 professional development trainings, reaching 547 professionals. 
"I got goosebumps at the enthusiasm for college that the students have. This experience is a must for  the future of all students". –Teacher
5. Ensuring Bright Futures: The power of inclusive higher education opportunities for students with IDD cannot be overstated! Students who participate are more likely to experience improved outcomes in employment and independent living, and see a decrease in reliance on government funding. IN! is committed to tracking the outcomes of students to demonstrate the impact higher education has in their lives. 
Your impact? Nationally, students with IDD given an opportunity to attend and complete higher education achieve a 70% employment rate. This stands in stark contrast to the 30% rate of employment for individuals with IDD who were not given the opportunity.
"My dream is to work at Google" -Student
Are you IN for inclusive higher education? Support the movement today!