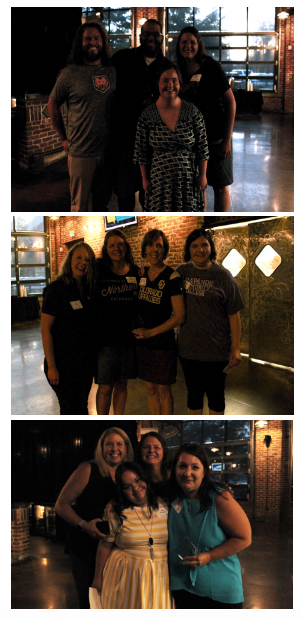 At the 2019 Summer Social Tailgate, three higher education professionals were honored as the IN!spirational Person of the Year. Each has demonstrated commitment to including students with intellectual disabilities on college campuses.
Christina McKellips, ACC Faculty
Award presented by Maggie Cullen, ACC Student
Nominated by Jennifer Woegens, ACC Staff
Christina has been a huge advocate for Elevate at ACC. Christina was Elevate's first faculty ally and she continues to advocate for the Elevate students. She goes above and beyond to support student success. In every interaction, Christina truly embodies ACC's mission and core values: to provide innovative and responsive educational and economic opportunities in an accessible, inclusive environment that promotes success for students, employees and the community.  
Danny Diaz, UNC Turner Hall Director
Award presented by Isabelle Woloson, UNC Student
Nominated by James Slaughter, UNC Staff
Danny is the director of the residence hall where students live on campus. He is an accessible resource in the residence hall community supporting positive student interaction. He assists and supports students in their growth and identity discovery, all while promoting a fully inclusive residential experience. Danny ensures GOAL students can live and learn alongside their fellow UNC Bears.
Lissanna Follari, UCCS Assistant Professor
Award presented by Sam Gonzalez, UCCS Student
Nominated by Dr. Christi Kasa, UCCS Faculty
Lissanna has been an awesome supporter of students receiving services from the Office of Inclusive Services. She has had many students in her early childhood education classes and supported their meaningful participation. She has also supported students to have the role of Course Facilitator (this is like a teacher assistant role) for her courses. She sees the value in participation and models equity, acceptance, and respectful relationships. 
Read more about the impact of inclusion in higher education: https://inclusivehighered.org/about/impact.html