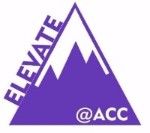 Elevate at ACC becomes the first Comprehensive Transition Program in Colorado! 
In January, the Comprehensive Higher Education Certificate, offered through Elevate at ACC, was approved as a Comprehensive Transition Program (CTP). Under CTP status, non-degree seeking students with intellectual disabilities may access federal financial aid. 

Comprehensive Transition Program standards were outlined in the Higher Education Opportunity Act of 2008. To be awarded CTP status, a school must offer an option for students with intellectual disabilities to access academic, career, and independent living instruction, have a structured curriculum with academic advising, and ensure inclusion of  students with disabilities in courses and job experiences with students without disabilities. Learn more about CTPs at: https://studentaid.ed.gov/sa/eligibility/intellectual-disabilities

A large kudos goes to Jennifer Woegens, Coordinator of Elevate at ACC, for her dedication to the CTP application process! We thank ACC as a whole for the support they have shown for inclusive higher education.