Nick, studied Photojournalism at University of Colorado Colorado Springs (UCCS)
---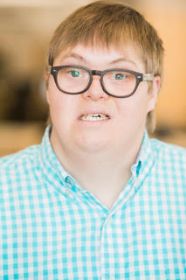 Nick's commitment to inclusion and desire to go to college led him to be among the first students with Down syndrome to attend UCCS. Nick began taking classes at UCCS before inclusive services were established at UCCS. His dynamic personality and commitment to learning allowed Nick to create great relationships with professors and his fellow students, which paved the way for the creation of the Office of Inclusive Services at UCCS. In addition to being a full-time college student, Nick had two jobs. His job at a local car wash allowed him to dive into his love of cars and machines and his work at PEAK Parent Center gave him the opportunity to support those engaged in disability advocacy and inclusion. His future plans include expanding his entrepreneurial endeavors, including selling his photos online and at art shows. Check out Nick's photography website.
College Classes Nick Enjoyed
Arts and Activism
Photography
Machine Shop
Colorado History
Physics
Public Speaking
Disability Studies
College and Career
Nick's Work/Internship Experiences During College
Local car wash
UCCS Transportation Services
PEAK Parent Center office assistant
Student assistant for special education course
Activities Nick Enjoyed in College
Visiting coffee shops
Attending sporting events
Hosting parties with friends
Eating on campus at Cafe 65
Attending car shows
---
From Freshman Year to Senior Year
---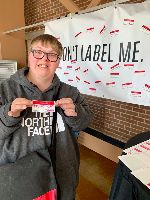 "Now I know people everywhere."
"I take more classes now. I used to take two and now I take three."
"My sense of humor has grown."
"I can help incoming students because I know the school a lot more and I don't need help getting around. I can help other people now."
---
Nick's Advice for Future Students
"Practice self-advocacy. I did some learning to speak up and talk about it in groups."
---
Nick's Mother Shares her Thoughts
---
Excerpt taken from Denver Post article: "The new access to college has an effect not just on the students enrolled, but the rest of the students on campus, said Julie Harmon, whose son Nick is one of the three students accepted for services at UCCS [the first year - 2016]. "Future doctors and future teachers, they will say, 'I went to college with a young man with Down syndrome,' " she said. "It has a huge impact on the students." Nick Harmon was one of the handful of students who audited classes at UCCS before the new college pathway was created. "It was during that time that I realized something like this was needed at the college," said his mother, who also has a teenage son who has Down syndrome and plans to attend college. "The campus is packed with opportunities, and we just need to tap into them."
---
More About Nick
---
Check out the new story that ran on CBS4, featuring Nick's graduation!
Working on photography project
---
To return to the list of graduates,

click here