Ashley, studied Advocacy and Human Services at University of Colorado Colorado Springs (UCCS)
---
Ashley's commitment to making sure that people with disabilities have a strong voice in their life led her to an internship focused on the work of self advocates at The Arc in Colorado Springs. Ashley worked to develop her own public speaking skills through many communications classes at UCCS. While Ashley's career commitment will keep her working at The Arc, her outside interests in fashion and the theater give her a full life with many outside activities. Ashley is currently completing a one-year SARTAC fellowship, with a project titled "The I in IEP".
Ashley's Most Impactful College Classes
Human Services

"It's a hard class, but when you do grasp it and understand it, the work will pay off."

Innovation Process

"It helped me figure out the roadway in which I want to go down."

College and Career

"It's a terrific class that gives you skills on the work field, relationships. It's just made me a better person in how I think, how I treat others, and knowing that my disability helps me become the person that I would like the world to see.

Communication courses
Ashley's Work/Internship Experiences During College
Ashley held an internship with the local Arc chapter.
Extracurricular Activities Ashley Enjoyed
Drama club
Attending plays
Fashion
---
Ashley's Advice for Future Students
---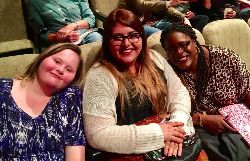 "Outside of class, after you study, live it up."
"Friends are the most important thing...In order to make true friends you really gotta be honest with people and put yourself out there."
"Do what you like, but don't feel any pressure to make someone else happy."
---
From Freshman Year to Senior Year
---
"My study wise focus was not what it should have been. I'll be the first one to admit that. So, what I did was, I got with my mentors, figured some things out with different people, and I basically sat down, studied and studied, and figured out how to reassess the situation. I am so happy I did that. Now in my senior year, I have been able to reassess things and figure out how to go into situations the proper way."
---
More About Ashley
---
Article on Ashley, Mia, and Nick presenting at a national conference
Presenting at national conference
---
To return to the list of graduates,

click here