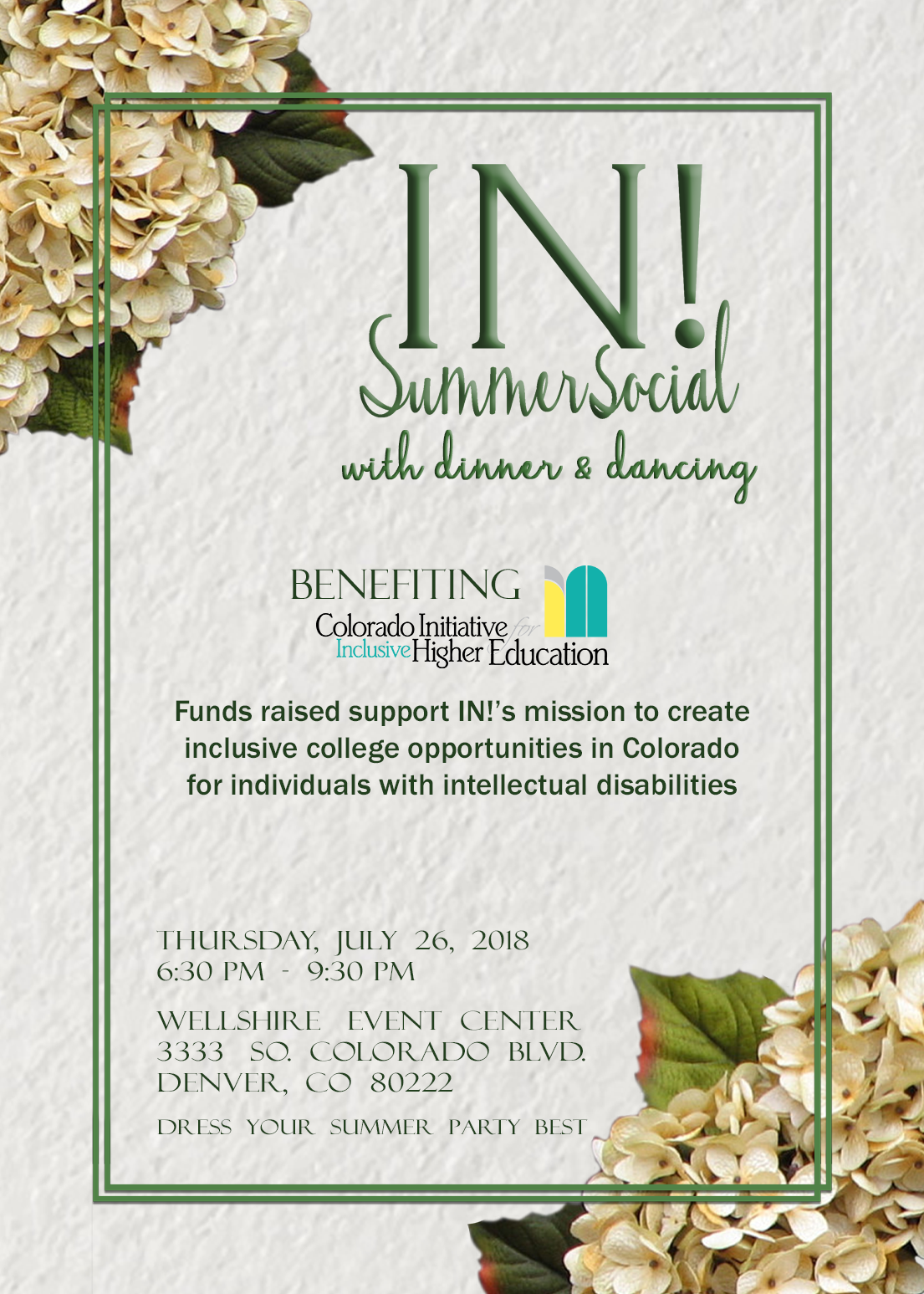 Thank you to our Ph.D. Sponsors! Click an icon to learn more
---
Creating inclusive college opportunities in Colorado for individuals with intellectual disabilities. 
---
The Summer Social is not your typical suit and tie event.  It is a family-friendly, fun, summer gala with lawn games, delicious food and drinks, and dancing. 
$75 Tickets per person
Sponsorship Opportunities Below
I am unable to attend, but would like to make a donation.
---
Sponsorship Opportunities
Benefits of the Phd Sponsorship level include:
Logo recognition and listing on IN!'s website on the home and sponsor pages for 12 months
Sponsor page includes company statement
One designated sponsor specific "Shout-out" through social media to include logo, company highlight and link to website. All mentions will be tagged and shared with the sponsor's social media accounts
Logo recognition in all advertising and collateral materials for IN!'s Summer Social 
Two VIP tables at IN!'s Summer Social (each table seats ten people)
Logo recognition on the center screen display at IN!'s Summer Social 
Verbal acknowledgement at IN!'s Summer Social 
Company representative will participate as part of the program activities
---
Benefits of the Masters Sponsorship level include:
Logo recognition on IN!'s website on the sponsor pages for 12 months
One designated sponsor specific "Shout-out" through social media to include logo, company highlight and link to website
All mentions will be tagged and shared with the sponsor's social media accounts
Recognition in all advertising and collateral materials for IN!'s Summer Social 
One VIP table at IN!'s Summer Social (table seats ten people)
Logo recognition on the center screen display at IN!'s Summer Social 
Verbal acknowledgement at IN!'s Summer Social 
---
Benefits of the Bachelors Sponsorship level include:
Listing on IN!s website on the sponsor page for 12 months
Acknowledgment on one  "Bachelor's Sponsor Shout-out"  through social media to include logo and link to website
All mentions will be tagged and shared with the sponsor's social media accounts
Recognition on all advertising and collateral materials for IN!'s Summer Social 
One table at IN!'s Summer Social (table seats ten people)
Recognition on the Center screen display as at IN!'s Summer Social 
Verbal acknowledgement at IN!'s Summer Social 
---
Benefits of the Associate Sponsorship level include:
Listing on IN!s website on the sponsor page for 12 months.
Acknowledgement on one  "Associate's Sponsor Shout-out" through social media to include listing and link to website
All mentions will be tagged and shared with the sponsor's social media accounts
Recognition is all advertising and collateral materials for IN!'s Summer Social 
One table at IN!'s Summer Social (table seats ten people)
Recognition on the center screen display as at IN!'s Summer Social 
Verbal acknowledgement at IN!'s Summer Social 
---
For more information contact: Shelbi Perry | Executive Director | shelbi@inclusivehighered.org | 303.756.6101